by Jeremy on Apr.30, 2009, under Blog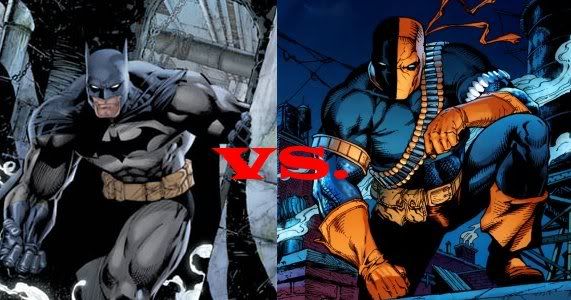 The two most calculating characters in the DC Universe.

Slade Wilson, the mercenary that prides himself on always having the next move figured out long in advance (much like my brother) versus Batman, Bruce Wayne, who not only has the next move figured out in advance, but probably has a dossier on where and when it'll happen.
Wikipedia says this "Deathstroke possesses various enhanced abilities. These include the strength of ten men and heightened speed, agility, stamina, and reflexes. He has the capacity to use up to 90% of his brain making him a tactical genius, adept at turning opponents' own abilities against them; …Deathstroke also possesses a healing factor in his blood that enables him to heal from physical injury much faster than a normal person.
He is also a highly formidable opponent in physical combat to the point that even Batman can only fight him to a stalemate (and only succeeded in defeating him with the aid of his sidekicks, in Infinite Crisis)."
So realistically he has more strength and technically has more brain power than bats.
In Infinite Crisis Batman was able to beat Deathstroke, but it was only with the help of a sidekick, but does that mean they couldn't stand toe to toe?
On Batman's plus side he has unlimited resources, a cadre of super SUPER powered comrades and he is the world's greatest detective, a distinction in his world that does not come lightly.
So who wins?
My bet is Batman. And yeah, you probably saw that coming, because well, he's FREAKIN BATMAN. But let me tell you why.
1) Batman competes in a world of superheroes with no superpowers himself, and not only holds his own, often is left saving the bacon of his super powered buddies time and time again. How? Planning, planning and more planning. All that 90% brainpower is great, but Batman's paranoia and ritual readiness pays off. Deathstroke is supposed to have 90% of his brain working ,but it seems that shows up as ego, or pride. Batman never takes anything for granted and never gives anything but his best (I'm a nerd).
2) There is a reason that Deathstroke and Bat's never have really fought it out. I think Deathstroke knows that once Batman sets his site on a person, that person might as well give up. Batman instead let's his sidekick Robin deal with all of Deathstrokes antics. How bad does Deathstroke have to be if Batman is willing to let his kid sidekick deal with him? I could see him sitting back "eh, it's just that one eyed guy, Robin can handle it". A bit of a superhero middle finger to the white haired nutjob that is Wade Wilson.
I would love to see the battle however. I figure it would start off small enough, but it'd quickly escalate into some sort of mutually assured destruction scenario. Wade pulling out a knife, bats pulling out a gun (yes I know he doesn't use a gun, but go with me here), Wade pulling out a missile launcher, Bats pulling out a nuclear bomb. Etc.
So DC, do me a favor. Write a showdown between the most calculating minds in the DCU.
It'd be better then the rest of the non Green Lantern stuff you have going on right now.
:Batman, comics, Deathstroke, www
17 comments for this entry: